Communication technology has advanced so much that cloud-based phone communications are now sharply on the increase, including a noted boom in virtual conferencing. 
Business technology has made leaps and bounds in cost efficiency and ease in conducting communications, both locally and right across the globe. In 2021 and beyond, the market for video conferencing solutions is going to become stronger, and more important than ever before.
Video conferencing has enabled us to cut down on travel time and costs. Executives and employees no longer need to travel to attend live meets and conferences which can be costly. Furthermore, video conferencing software has provided huge value by increasing the communication and collaboration between colleagues, or businesses and customers.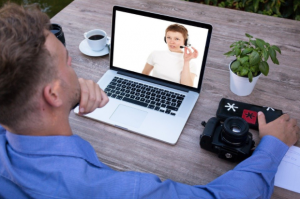 In 2018 alone, the video conferencing market reached an incredible $3 billion in the US. Unsurprisingly, the global pandemic has pushed this even further in 2020 with more working from home, and the expectation of work and meetings continuing as normal. Now, the figure is expected to double by 2026. What does this mean? Even with technology as it stands, more innovations in video conferencing are expected to follow in the years ahead.
Do you want to know more about affordable cloud-based communications technology which includes video conferencing? Visit Vaitel to learn more. 
Improved Audio and Visual 
With the improvements and accessibility in high tech video conferencing software, wasted time from face-to-face meetings which could have been calls are now a thing of the past. The technology has improved the efficiency and productivity of meetings as every agenda can still be thoroughly discussed, with people staying focused, and wasted time reduced. 
Video conferencing has become more accessible and easier to use with the use of home computers, laptops, smartphones and tablets. As a result, businesses demand better video conferencing technology, and the global industry has responded. 
Video Conferencing is the Future
Video conferencing has greatly changed the way people meet and interact, both locally and globally, and it's helped businesses navigate remote working and even manage major shifts and changes, such as COVID-19.
So, what does the future hold? There are many debates, but AI-based algorithms could play a crucial role. During video conferencing meetings, AI could act as facilitators and help transcribe audio, count attendees, and produce insights from the meeting, to be shared and distributed afterwards. Technology could also improve to enhance picture and audio clarity, and cut out background noise. 
Right now, the best technology still exists at your fingertips, so learn more about how video conferencing can greatly improve how your business operates and how it could save you money. Talk to Vaitel to find out more.